LETTER FROM FATHER LUCIEN - January 20, 2021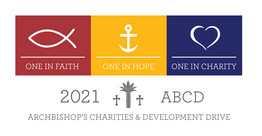 My dear brothers and sisters, the love of God compels us to be ambassador of Christ in our community, neighborhood and in our today's world. We do that not in abstractive ways, rather in very explicit and concrete ways. We show that the love of God can be present and touchable through our actions. Every year in our Archdiocese of Miami, we are encouraged and invited to do so in a little way by demonstrating our support and love for our local church. We participate building up the Kingdom of God in the South Florida so that our brothers and sisters can taste the love and compassion of Christ through many charitable services the archdiocese is doing.
In our session Life in the Spirit this week, I found several biblical teachings that are very important for us to know about what we do as Catholic Christians in our church are deeply rooted in the Sacred Scriptures. For example, St. Paul in the first letter to the Corinthians 1, 16: 1-2 says, "Now in regard to the collection, for the holy ones, you also should do as I ordered the churches of Galatia. One the first day of the week each of you should set aside and save whatever he can afford, so that collections will not be going when I come." In addition, St. Paul continues to exhort and encourage us, "Each of you should give what you have decided in your heart to give, not reluctantly or under compulsion, for God loves a cheerful giver." (2 Corinthians 9:7).
Certainly, giving is always an issue churches seem to struggle with. For many of us pastors, can find it hard to even talk about it with parishioners. Thanks be to God; I can say that most of our generous and loving heart parishioners are aware about the needs of their fellow brothers and sisters and do not withhold their sacrifice giving. I applaud, congratulate, thank you, and pray for you and your loved ones as you continue to support your local church. Your support of ABCD helps the Archdiocese of Miami to make the Gospel alive in our midst by letting the most vulnerable brothers and sisters that God cares about their broken hearts and their trials in life. The church is here to love, serve us all by feeding us with the word, the sacraments, and ministering to our souls that gives us hope to live.
So, as your pastor, I would like to humbly ask you to support the ABCD this week and throughout the year by making a pledge for the 2021 campaign by following the instructions that are giving to you. Many of you may receive your envelop pledges at your domicile address, please do not disregard them, fill them, and send them back to the Archdiocese of Miami or pass by the parish office to drop, and we will send and process them for you. It is a moment of prayer by asking the Holy Spirit to guide you and your family how together you will help and support the Archdiocese of Miami as your local church in the South Florida to continue the work of evangelization.
Once again, on behalf of the Archbishop Thomas Wenski, I thank you for the sacrifice you are making, especially in this challenging time we are living. May God bless you and your loved one and be safe protecting one another.


CLICK HERE TO LEARN MORE AND TO DONATE
PARISH NEWS
Live Streaming School Mass for students every Friday at 9AM
Live Streaming Sunday Mass at 10:30AM
http://www.sthelencatholicchurch.net
https://www.youtube.com/channel/UCD86nmOEP4soSiK0xY-eS0w
https://www.facebook.com/sainthelenchurch
• St Paul Center has a free website called : "The Quarantined Catholic Hub" link below:
https://stpaulcenter.com/hub/#
• REMINDER: join Formed website and use this as a resource for prayer and meditation
https://formed.org